Can we talk for a minute about postpartum skin problems? Although I have been relatively acne-free my entire life, I wasn't one of those women who had fantastic glowing skin during pregnancy. In fact, it was the opposite, and it didn't go away when Jack was born, either. I have terrible blackheads around my nose and have also developed some weird red bumps all over my arms that make me look like I have leprosy. A few weeks ago, I was emailing a fellow blogger,
Carmina
, about the frustrations I have been having, and she generously offered to send me some beauty samples from her new business,
Perfectly Posh
. I had heard about the line before and was intrigued by their naturally based beauty products filled with essential oils and other ingredients I can
actually pronounce
, so I was definitely excited to get my hands on a few different things. Plus, there is nothing I love more than trying new products! I know I'm not alone with my skin problems, so I thought I would post a quick rundown of the samples I tried so you can see if they might be right for you!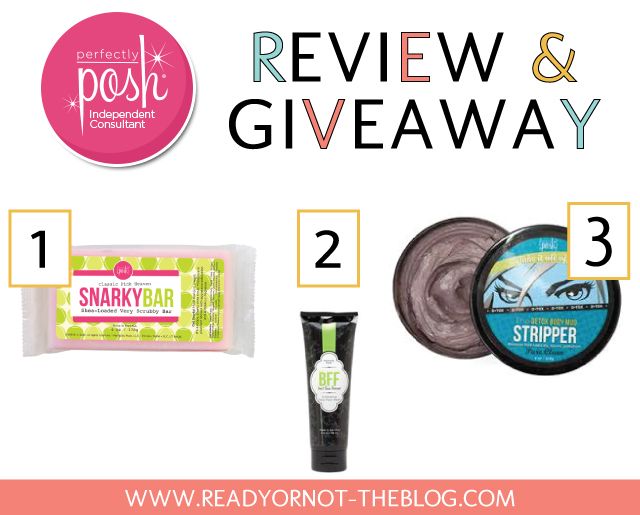 Classic Snarky Bar
// I was hoping that this soap would be the miracle worker that gets rid of my arm bumps, but I have used it a couple weeks now and so far, no luck. However, I still have been using it every time I shower because it keeps my skin so soft! This is definitely the most aggressive exfoliator I have ever used, but that's why I love it. That, plus its delicious smell & fun pink color make this is a product that is going on my must-buy list
BFF Best Face Forever Exfoliating Face Wash
// I've never been in love with a face wash and am constantly looking for the next best thing for my skin. The ones that smell good don't do a good job, and the strong ones always tear apart my sensitive skin. Because the BFF is an exfoliating wash, I was worried it would do the same, but I was surprised at how gentle it was while still getting the job done! I looked in the mirror after washing my face with it, and I seriously gasped because my face looked so much
brighter
. I am 100% a believer in this face wash and will most likely never buy anything else ever again. If you have sensitive skin (or really any kind of skin!) and are looking for a good face wash that exfoliates without drying you out, give this a try. Plus, who doesn't want to smell like grapefruit and peppermint essential oils?
The Stripper D Tox Body Mud
// Although this is a body mud, Carmina recommended I use it on my face to try and get rid of some pesky blackheads.
GENIUS.
I have a couple blackheads under my nose that I had finally come to accept as permanent fixtures because nothing I did seemed to make any difference. After leaving this body mud on and around my nose for about fifteen minutes, I could tell that a lot of the dirt in my pores had raised to the surface. I rinsed it off with a warm wash cloth and was so impressed with the difference I could see from just one application! It definitely felt like a "detox" for my pores. Those nasty blackheads are now visibly smaller and I have high hopes that they will disappear completely with a few more treatments. Seeing how well the body mud worked on my face, I am excited to try it on the rest of my body and see what else it can do!
After trying these products and falling in love, Carmina and I have decided to collaborate a little bit and pamper
YOU
with a giveaway! That's right.. One lucky winner will get my new favorite product, the
BFF Exfoliating Face Wash
, for free! All you have to do is browse Carmina's Perfectly Posh website and let me know what products you are dying to try in the comments below! We are also throwing a
Facebook party
to go along with this review, so if you want to know more about Perfectly Posh, hear more about our favorite products, request some samples of your own and even get a few more chances to win some fun goodies,
join us there
!
What Perfectly Posh product are YOU dying to try? Comment below and be entered to win!