Every time we have a party to attend where we need to bring a present, Scott always tells me how important it is to find a "signature gift" that people can always count on you to bring that is unique, clever, and memorable, and I agree with him. When we were getting married, a friend of mine gave us a "love note kit" with paper, markers, bath crayons, pens, and envelopes in a cute basket with a clever note on keeping the love alive in marriage by writing each other notes. It was simple and inexpensive, but because her gift was so clever and unique, I can still tell you all about it and who gave it to me 3 years later, even though I couldn't tell you what any other person gave us. We are always looking for things to make our "signature gift", and now that we have a little bit of experience in the parenting field and know the kinds of things we would have liked to be given before Jack was born, we have finally found ours for baby showers... Bed Time in a Box! (Weddings, bachelorette parties and birthdays? Yeah, we are still working on that.)
For this gift, I just threw together our favorite things that have become part of Jack's bedtime routine, but you could obviously change it to include your own "bedtime must-haves." My favorite part about this gift is you can change it each time to cater to each person you are giving it to, and it can be as cheap or expensive as you want. For the last baby shower we attended, our gift included:
Goodnight Moon
: This book is definitely a classic bedtime story. We read it to Jack every night and I think every baby needs it in his or her collection!
Pajamas
: Our favorites are Carter's and Gymboree cotton pajamas with the zipper because they make nighttime diaper changes a breeze! Seriously, who has time for 100 snaps at 3 a.m.?
Butt Paste
: This is by far our favorite diaper cream. It doesn't stink like Desitin, and I think the name is clever. Jack has never had a diaper rash (knock on wood) and I attribute it to the fact that I put this on his little bum every night before bed.
SwaddleMe
: I know I have mentioned these before, but they are
PERFECT
for newborns. Jack aka Houdini escaped every single swaddle we put him in until we found these. They have velcro so it is basically impossible for a newborn to escape, making them cozy and swaddled all night long.
Gripe Water
: When Jack was freshly born, he always had tummy trouble before bed. We would hit him with a dose of gripe water (and sometimes gas drops) and it would help him get to sleep. Life saver.
Binkies
: Although Jack doesn't really take a pacifier anymore, he did when he was a newborn and it seemed like he would
only
sleep if he had one in his mouth. Because they are so small, bouncy, and easy to lose, I figure you can never have too many! Nuk is our brand of choice, but they all seem to get the job done!
Security Blanket
: We love these security blanket animals! Jack has a monkey and this giraffe one, and he loves to cuddle, chew, and throw them. They are the perfect size for little newborn cuddles and make a great lovey!
Baby Bedtime Lotion
&
Body Wash
: I love the smell of this lotion and body wash so much that I usually steal it to use for myself. It is definitely the best smelling baby product I have found, and who doesn't want to cuddle a clean baby that smells amazing? Plus, studies have proven that using this actually helps baby sleep better, so it's a win-win.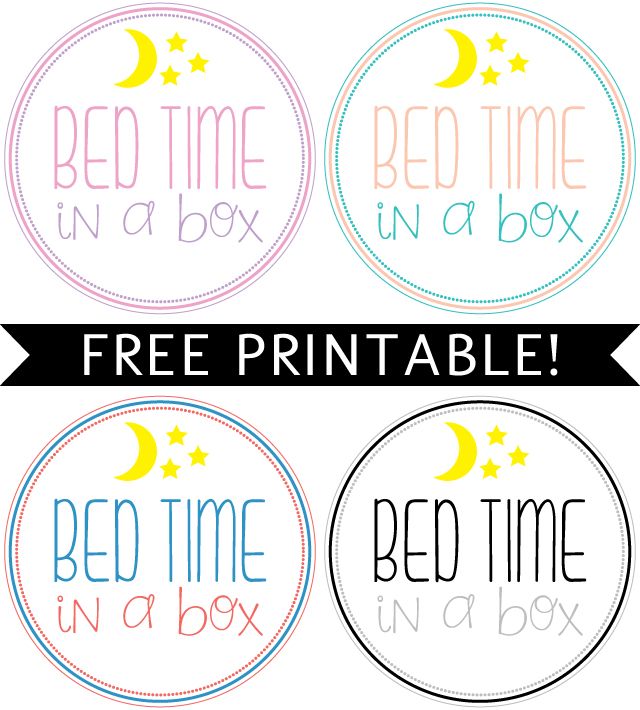 As far as wrapping goes, I arranged everything in a cute gift box from Target and tied some matching ribbon around it. To top it all off, I added one of these cute tags I designed, and because I love you, you can download these tags for free in four different colors by clicking
here
!
What would you include in your "bedtime box?" I would love to hear!