Can anyone believe that my little BABY Jack is going to be ONE in a little over two weeks? He is walking and saying cute things like "uh-oh" and "wow!" which pretty much melts my heart. I am loving this new stage and the fact that I get to spoil him with a fun first birthday party! To keep from going too overboard with the gifts, we have decided to stick to the "Want/Need/Wear/Read" rule for both his birthday and Christmas for the rest of our lives, probably. If you haven't heard of this guideline for gift giving, it is where you just get them something they want, something they need, something they'll wear, and something they'll read. How great is that? We don't have a lot of money right now, so I love that I can get him some well-rounded gifts without going too over the top.
Even though I have pretty much bought all four of his gifts, I have done a fair bit of research when it comes to what gifts are perfect for a one year old, so I thought I would share my knowledge with all of you! Plus, Jack has some grandparents who have been asking for ideas on what to get him and I am 100% okay with them spoiling him. I mean, what are grandparents for? :)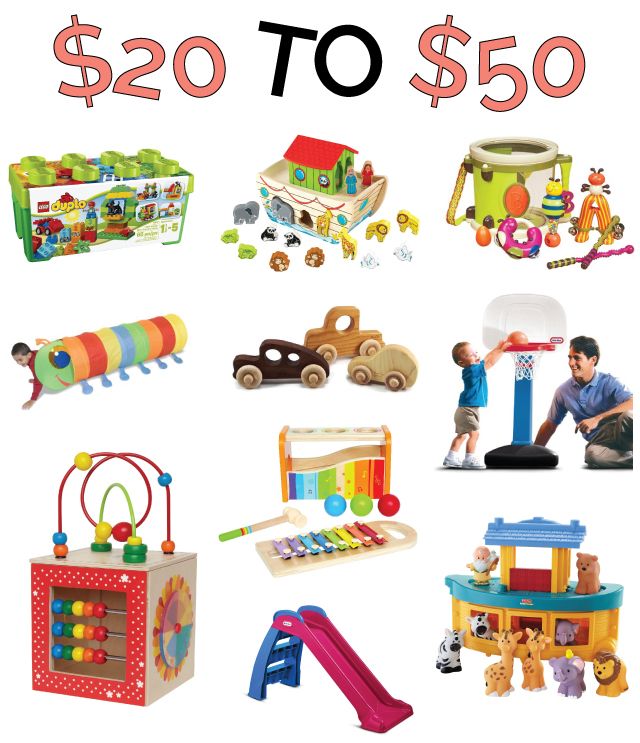 Original Magnetic Wooden Block Set
|
Learn-to-Play Piano
|
Alphabet Picture Building Blocks
|
Airplane Rocker
|
Radio Flyer Classic Tiny Trike
|
71-Piece Lego DUPLO Building Set
How cute is that little mini piano? And that ark shape sorter? Ahh, I could spend a million dollars spoiling this kid. Now that the gift shopping is done, I just have to focus on planning the party! The party is in two weeks and I have nooo idea what I am doing. It doesn't help that my brain is constantly going a million miles an hour thanks to this busy holiday season! Any first birthday party planning tips sent my way would be greatly appreciated. :) xo
Do you have any tried and true gifts for a one year old that I should add to my list? Stay tuned in the next few days for parts 2-4 of the "Want/Need/Wear/Read" One Year Old Gift Guide!