If you follow me on
Instagram
, you might have seen me mention Baby Led Weaning a few times. Since this is a relatively new way to introduce solids to your child and not a lot of people have heard about it, I thought I would clear up a few of the questions and concerns I have received over the past couple months. As always, if you have any more questions, I would love to answer them in the comments on this post or via email!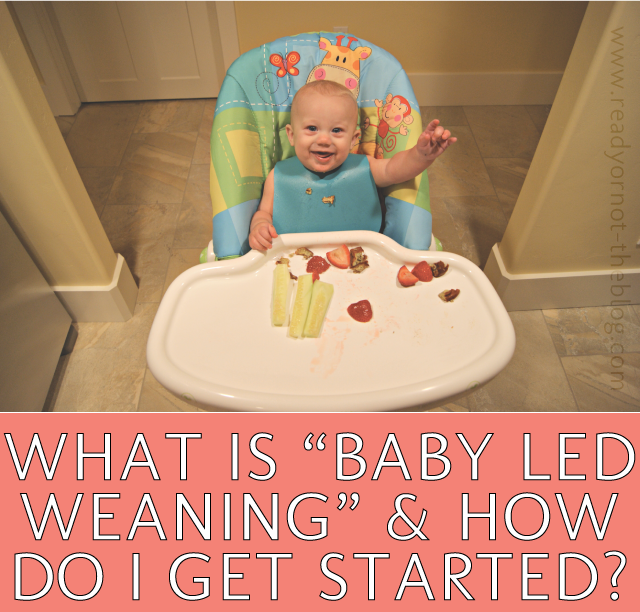 Because it has "weaning" in the name, a lot of people think BLW has to do with weaning your child from breastfeeding. I was actually one of those people for quite a long time, but with a little research on the
Baby Led Weaning website
, I found out how wrong I was! This theory originated in the UK where "wean" means to "add complementary foods" rather than quitting breastfeeding. So, to put it simply, BLW is all about skipping purees and allowing your baby feed themselves
real food
right from the start of introducing solids.
We kind of started on accident. I had heard of Baby Led Weaning before and thought it was crazy. I had seen the pictures of tiny babies gnawing on a giant piece of steak and it completely freaked me out! Plus, I had been loving making homemade baby food with the blender and it was going well. However, when Jack was a little over six months old, our blender broke. I figured I had a choice: go buy a new blender or just feed him something we had in the fridge. I didn't particularly want to go to the store, so I grabbed an avocado we had in the fridge, sliced it up and put it on the high chair tray in front of Jack. HE WENT NUTS! He grabbed the slices and started feeding himself immediately, and was so excited about it.
I realized that I had inadvertently done the exact thing I thought was so crazy before, so I spent that whole night reading up on Baby Led Weaning. The more I read, the more it made sense. I mean, what did people do before there were blenders and packaged baby food? They fed their babies right off their plates! I love that I don't have to make anything special for Jack at meal time because he eats a deconstructed version ofwhatever I am having. If we are having burritos, he gets some black beans, avocado, and rice. If I have a salad for lunch, he gets some lettuce, carrots, cheese, etc. Plus, it makes me more aware of what I am eating because I know he will be getting the same thing! Sidebar: If I make something for myself and give something different to Jack, he will scream until I share whatever I am having. #spoiled.
So, how does it work? I simply cut his food into finger-size strips so it is easier to grab, put it right on his high chair tray, and he eats it! Since he is still learning, a lot of it does end up on the floor and his lap, but he still eats a ton and is getting better with every meal. Obviously, I keep a super close eye on him in case he starts choking, but so far we have had no problem with that.
Note: Gagging is different than choking. A baby's gag reflex is set very far forward in their mouth, so when they gag it is their way of moving the food around and getting used to new textures and is not a cause for alarm. If you want to learn the difference between gagging & choking, go here.
Although I am pretty sure that BLW discourages spoon feeding your baby, I still do it. I still give him purees when we are in a hurry or traveling, because let's be honest.. when babies feed themselves, it gets
messy
. He also loves applesauce and yogurt and I still spoon feed that to him a couple times a week. I know some BLW moms just give their kids a bowl of yogurt and let them go at it themselves, but I can't bring myself to do it yet. Or ever.
If you are interested in getting started with Baby Led Weaning, I would suggest reading up on the
Baby Led Weaning website
, following
@blwideas
on Instagram, and buying
this book
&
cookbook
. I would also suggest getting a
very
easy to clean high chair and bibs, as well as some patience for messes because it can get pretty crazy! Honestly, though, the benefits we have seen from using this method make the mess all worth it. :)
Thanks to BLW, Jack is developing healthy eating habits at a very young age, as well as learning to eat what is put in front of him. The only food he has ever hated is salmon, and who can blame him? I am personally very picky, so it makes me happy to see my baby be happy with any food he is given. I am so proud of the fact that he eats better than most kids who are much older than him. It turns every meal time into an adventure that we both look forward to every day.
I obviously love sharing Baby Led Weaning with people, so again, if you have any questions I didn't answer in this post, feel free to comment below or email me!